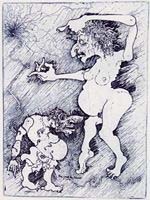 This is my first steel plate, etched electrically using the wonderful book by Alfonso Crujera. Yay it really works (!!) and indeed, its less toxic and eventually cheaper.
Michael Richardson. Published on facebook. August 2017.
Lost the account of how many times I have used your Electro-Etching Handbook. Thank you for all the useful information. I little Electro-etching station is working beautifully now. In particular, after I got a better power supplier and good alligator battery clips. I experimented with your grounds' recipes and picked as my favorite the oil based graphite ink one. Very happy with the results. I have being blogging about it at http://blog.lotusandspice.com
Maria Luiza Campos. Artist and printmaker. Brazil/Canada. October 2015.
I have been experimenting with electro etching. I found several websites including yours plus your book very helpful. I was trained in traditional printmaking methods and materials but have been experimenting with less toxic more environmentally responsible materials and methods for over 15 years.
I love electro etching. It feels very much like traditional etching. I love the crisp accurate lines ( no underbite ) and appreciate the consistent bite times. The fact that there is no residue and the copper sulfate solution doesn't degrade is pretty impressive. I think this technique is the way of the future. I am working out of the Martha Street Printmaking Studio in Winnipeg Manitoba. I am demonstrating the electro etching method trying to get more printmakers to adopt it.
Karen Cornelius. Artist, printmaker and teacher. Canada. July 2015

This is an amazing book, very well explained and clear. There is the best book about electro-etching and with that book we can make electro-etching very well.
Rosane Viegas  from Brazil. Published on Amazon.com, October 2014
I just received your book - what a great resource! Thank you. Some if the information is much easier to take when I'm not reading it on a computer screen (…) I am in the midst of writing brief document meant to lay out e-ething guidelines for metalsmiths. While this process is gaining popularity, I have noticed that individuals are almost exclusively using sodium chloride - something I would like to address and change by writing to the metalsmithing community directly. In the introduction I point people in the direction to your site and the link to you book, as you have more completely covered most of the subjects I want to cover. For general set-up, I would like to cite your work whenever necessary, such as describing how the electric field changes when using a cathode grid.
Benjamin Dory Artist. USA. April 2014
I got the book a few days ago and thanks it is a very nice book BOOK OF THE YEAR 2013 I think.
Öle Larsen Printer and art director of Ateljé Larsen. Sweden. January 2014
Yes we got your Electro book...and it is a wonderful achievement on your part and a great addition to the safer choices printmakers now have.  Thank you so much.
Keith Howard Artist, etcher, graphic researcher. New York. USA. January 2014
You should be proud of your Handbook, I am sure it will encourage etchers to try electro-etching and it will become the "bible" - I use lower case out of respect!
Bob Perkin Physicist, etcher. Chester. UK. December 2013
Congratulations! How wonderful that it has been published. I bought a copy through the link you sent me a while back and have read it a few times. I am in the process of trying to make my own little tank at home. With the help of your book I've got everything set up and am shortly going to try and etch a plate. I shall let you know how goes. Thank you again for being such a wonderful teacher -it has opened up a whole new line of enquiry for me.
Stephanie Gaumond Artist, etcher. Glasgow. UK. December 2013