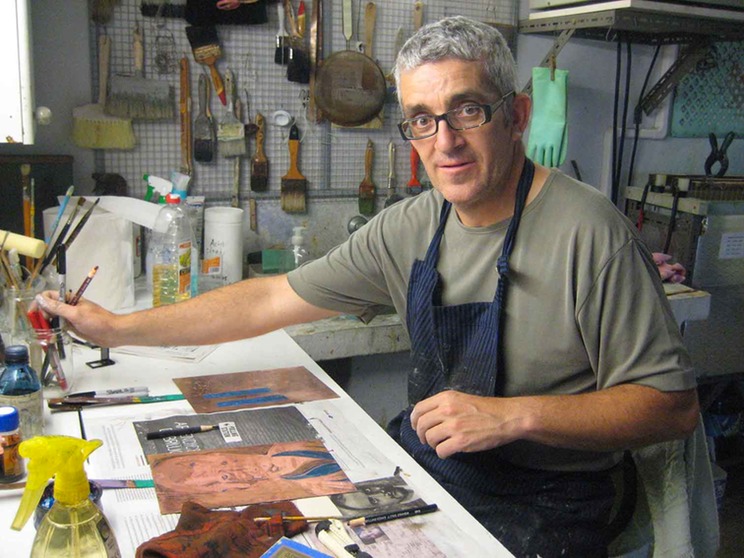 Andrés Lacasta (Zaragoza, Spain) is an artist with great experience in different media formats. In his short stay in the workshop, he has delved deeply into different electro-etching processes. His profound knowledge of etching and previous experience with electro-etching with the help of my handbook, have been an advantage in learning several new techniques.
Andrés, previously began electro-etching large iron plates with the help of an old galvanizing unit. The War series has been exhibited at the Museo Pablo Serrano (Zaragoza), at the Centro de Cultura de Barcelona and at the Centro Buñuel de Calanda (Teruel). 
I generally recommend a minimum two-week stay at the workshop, but for personal reasons Andrés could only be here four days. For this reason we had to rapidly put into practice several processes that usually take more time. Nevertheless, I think he has assimilated the basic principles of the techniques we addressed. I am certain Andrés will contribute with great works etched by electrolysis.
It has been a privilege to have an experienced artist like Andrés Lacasta and to exchange our vision of art and its world in our two practices.
Andrés Lacasta's electro-etchings made before to attend the residency



War Series
Pictures from the workshop

Andrés Lacasta speaks about his Residency
Residence in Alfonso Crujera's workshop

The moment I contacted and received a reply from Alfonso accepting my request for a short stay in his workshop I must confess I was very happy.  It was a great opportunity in my attempt to make my workshop a much more ecological place and my graphic technique more sustainable and non-toxic. But it also meant a responsibility, because I would have to confess and expiate before this expert teacher my previous electroetching atrocities.

My contact with electrolysis started in 2013.  Alfonso was present then as well, but through his magnificent and indispensable manual. I started with a small 5-liter bowl of copper sulfate and a few small plates, and then continued experimenting around with iron, my preferred material. All engravings came out polished, nicely and perfectly engraved and the accursed rosins, nitric acid and such disappeared from the workshop, which was a very important achievement and pleasure, that made me  very proud. 

But printing was not my objective then, my art aim was focused on the iron and in the rust, and Alfonso with his book, gave me the clues I felt I had to immediately work with... and that could not wait. So then, I moved up to a 2,000 liter tank ...with Crujera´s book in hand throughout the whole thing, with the illogical but logical arithmetic progression of 5 to 2000 ..., foolishly armed with the usual audacity and naivety with which these things should be confronted, a couple of two-meter ungovernable plates, and a rowing paddle to dilute the sulfate. The first result almost caused a fire of extraordinary dimensions (the old transformer I was using broke down) ... in the end just a big scare and an unforgettable scorched smell ... but after a struggle ... the plate finally came out (there were 5 plates in all) ... the teacher Alfonso Crujera was right ... if everything is methodically in order (the resistance of the transformer was not in order) the electrolyte will act as it should ... and those plates in low relief that built up the "War" series went straight to the Pablo Serrano Museum of Zaragoza with great critical acclaim and audience, where I would not stop talking like a magpie about my new model and master ... my teacher and now friend, Alfonso Crujera.

After this first headlong experience, I continued to think about and bring the sense of my work closer to the technical and academic orthodoxy that electrolysis requires. I knew I had to go back to that small 5-liter container and return to the workshop for further research on varnishes, pure line, and graphite ink ... But in this case I needed Alfonso's help, and with kindness and discipline he welcomed my partner Leonor and I in his home, making our stay in his workshop a generous learning experience unusual to the art world.

That incendiary lesson with large plates was not in vain, after the "War" series, came the "Swallow Earth, Drinking Grass" (a graphical essay on the play "At night just before the forests" by Bernard Marie Koltés) also with iron and formidable paper, but now with the moderation, prudence and science that electrolysis requires, and with the necessary respect towards Crujera's research.

I want to emphasize two things about our stay in Crujera's workshop. First, his selfless and pedagogical transmission of knowledge, the result of long hours of tests and trials alone in his study, where the tricks, wits and puns of the workshop never cease to amaze every minute you spend with him sharing his space. And second and more importantly, because we have had the opportunity to meet an artist, workshop master and friend, who thanks to his kindness and his creative sense infuses a peculiar and invaluable reconciliation between art and life.

Alfonso thank you very much.

J. Alberto Andres Lacasta 
Andrés Lacasta's etchings

Andrés Lacasta's CV