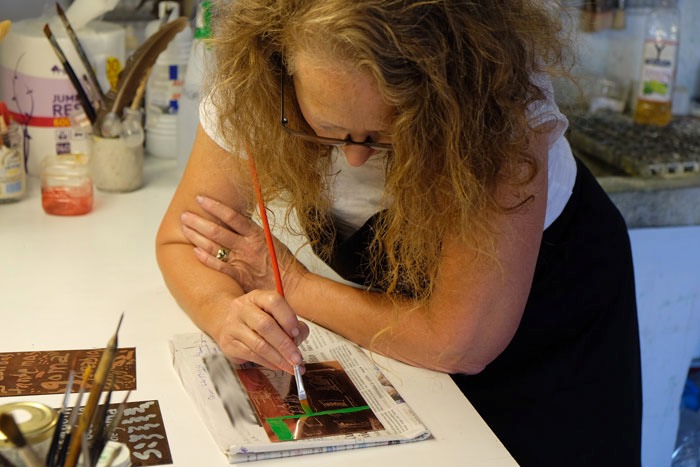 Annalisa Campbell is an American artist from Oklahoma. Three years ago, she was interested in attending our electro-etching workshop/residency, but some family issues prevented it. This year, she was able to make her dream come true, and for three weeks in July 2015, she was introduced to the electro-etching processes.
Annalisa is an artist with experience in many media. She is an expert in woodcut, and teaches creative thinking and art to students of all ages in her Oklahoma City studio-gallery, Brayer&Brush.  Although, she did not practice traditional metal etching for thirty years, she was able to grasp the technique quickly. She was accompanied by her husband, Bruce Campbell. Though he is not an artist, he is very skillful with his hands and helped her with the non-creative work – cutting plates, preparing the contact strips, degreasing the plates, and even inking and printing some plates. This was a great help for Annalisa, allowing her to concentrate on creating etched plates. He was also a great help to me, because he was taking pictures while Annalisa and I were working.
We followed the planned program – she practiced lines on hard ground and open bite electrotint for tonal areas. Soft ground and electrotint on graphite ink resist, and lift-ground electrotint. Also, a technique that she liked very much – passive electro-etching on zinc plates, for deep bites. She intended to make etchings to illustrate a story written by her son, but decided to draw on the observations and experiences of her residency, expressing surprise and fascination with plants and birds that were new to her, as you can see in her prints.
The Campbell's enjoyed walks on the island when they were not in the studio. We hiked to Roque Nublo, a landmark for Canary people. We gave this tour with a group of friends that I normally walk with, and they chose this route for them. Then we ate in Las Lagunetas, a small village, and ended the day chatting in the garden of some of my friends. They also visited the island of Tenerife, staying in La Laguna – a historic city with many palaces, churches, and art centers. Annalisa and Bruce enjoyed taking in the lively ambiance of La Laguna's pedestrian streets. They climbed to the top of Mount Teide, and visited Icod de los Vinos to see the Drago, one of the oldest trees on the Canary Islands.
Set up of the electro-etching unit at Brayer&Brush will begin soon. They are currently making plans for adapting the studio for this purpose. Annalisa is eager to continue developing her art in these techniques, and happy to have Bruce at her side.
Walk to Roque Nublo

Pictures from the workshop by Bruce Campbell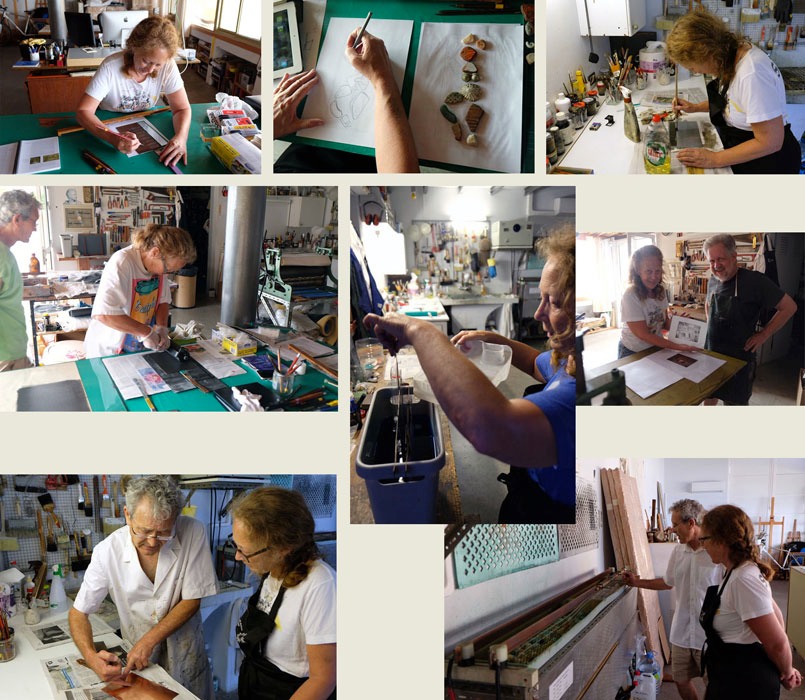 Annalisa Campbell Speaks about her Residency
When I began researching Art Residencies three years ago, I discovered that each Residency has its own "personality" and criteria. I sought out a Residency with criteria that fit my objectives: 1) space and time to focus solely on my personal work and creative energy. 2) Availability of a teaching mentor and encourager. 3) a focus on printmaking. I found a perfect fit for me in the Residency in Electro Etching of Alfonso Crujera!

I expected from the start to have excellent instruction and to relish the opportunity to learn the process of electro-etching. As a teaching artist, who develops many art exploration opportunities for students, it had been years since I had totally focused on my own art and my love for etching. So, these expectations were met from the start.

What I was not prepared for was the life-long friendships that were developed through the hospitality of Alfonso and his family. Their generosity of spirit, home, friends, and the beautiful island of Gran Canaria added a dimension to my Residency that I never expected.

I brought back to Oklahoma not only new knowledge, so beautifully and patiently instructed by Alfonso, but renewed and refreshed creative energy! I am eager to prepare my studio in Oklahoma City, Brayer&Brush, to continue to explore all the possibilities in Eletro-Etching; including fulfilling yet another life dream of illustrating childrens' books, where I first discovered and fell in love with etched images.

Annalisa Campbell's etching
Electro-etching Art Residency / Workshop  by Bruce Campbell
When Annalisa decided to pursue this residency with Alfonso Crujera, I looked at it as a great opportunity to begin my retirement with a month-long retreat on a beautiful island. This month was that, and a whole lot more.

Certainly, I anticipated learning enough about the equipment and process to help her set up for electro-etching at her studio. What I didn't expect was that I would spend just as much time in the studio as Annalisa. The process is fascinating, and the creative energy of Alfonso and Annalisa made this a very special experience.

It has been years since I have been able to immerse myself in such a creative and hands-on experience. I would recommend this residency for any artist who is serious about developing their talent in the area of electro-etching, and anyone who is willing and able to accompany them as a "studio assistant."

The additional cultural experience was amazing. Seeing Gran Canaria and Tenerife, not as a tourist, but as the guest of such gracious hosts and new friends was the opportunity of a lifetime. Additionally, magnificent scenery, wonderful food and wine, and mild weather made for the perfect setting. I feel as though I was able to step out of the routine and schedule that can so easily take over our lives, and to completely refresh my mind and spirit in the Canary Islands. Thank you to Alfonso, Amparo, Lluvia and the many new friends we made in Gran Canaria!