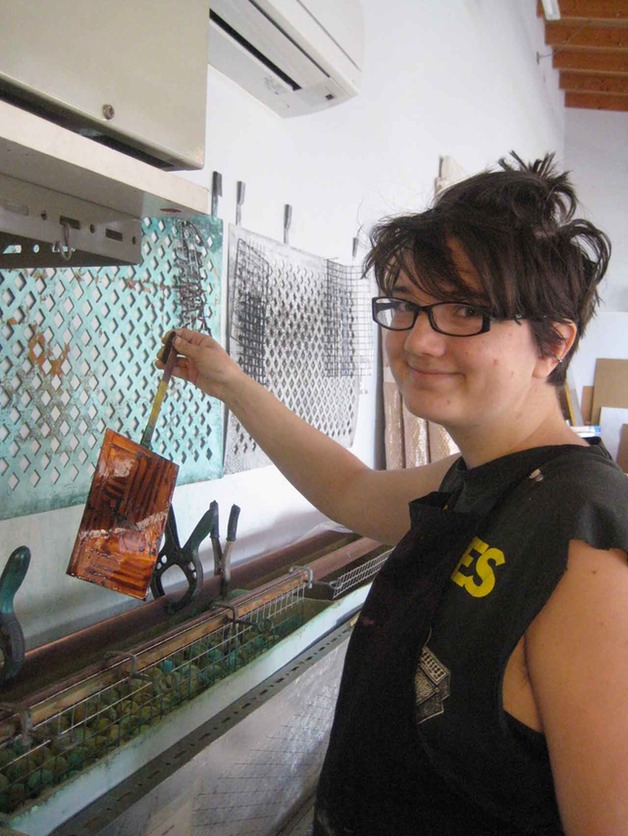 Cara Seccafien, Canada (1991), is a graduate in Fine Arts with a specialisation in Printmaking from the University of Alberta in Edmonton, Canada. Cara is the second youngest artist who has attended the workshop of electro-etching thanks to the grant offered to young artists this year. The amount offered by the workshop organiser is relatively small, so Cara has had to apply for several grants in her country to be able to come to Gran Canaria since for a young artist like her, to travel from Canada to Gran Canaria implies an enormous economic effort. On her third attempt, she was awarded the Professional Development Grant of the British Columbia Arts Council. Thanks to both grants, Cara has been able to fulfill her dream of embarking upon electro-etching in our workshop.
After twenty-five hours of travel, Vancouver-Toronto-Brussels-Gran Canaria, she was unlucky in that her luggage did not arrive on the island at the same time as her, and for several days she had no information as to where her suitcase was. Her biggest concern was not her clothes but her plates and papers that were also in her suitcase.  Until she was reunited with her luggage three days later,we gave her some clothes to get by and some plates other etchers had left behind in the studio. This allowed her to start work until they brought her luggage and she was finally able to relax and enjoy her stay in the workshop-residence.
Cara  worked full out to achieve her objectives, etching lines on hard grounds, soft grounds , and open bite electro- etching for tonal areas. She found it fascinating to etch with graphite ink resist, on hard and soft grounds, and also to be able to produce grey tones of different intensity by diluting the varnish. She worked on passive electro-etching with zinc plates besides the semi-dry electro-etching process, plus galvanised lines and galvanography. I feel sure that this highly complete repertoire will allow her to continue working and experimenting with low-risk etching and to teach others this technique in Canada.    
Pictures from the workshop

Cara Seccafien speaks about her Residency.

Arriving at the Electro Etching Residency Workshop was nothing but a pleasure. This is an incredible feat because anyone who knows me knows I have chronic anxiety and travelling triggers some of the worst of it. Upon arrival, my luggage, filled with many carefully prepared copper plates and handmade papers that I've collected for years, was missing. I then immediately came down with a harsh cold.

But my chronic anxiety quickly subsided. I attribute this to Alfonso and his family's empathy, kindness, and accommodations. Between lending me clothes, gifting me coppers plates, and taking me shopping, I felt safe and cared for. Alfonso's daughter in law is a medical doctor and she made me an incredible elixir out of the family's home grown herbs, and it cured my cold faster than any remedy I've tried!!

Within a day, I was making etching plates in clean clothing and enjoying the incredible weather during my spare time. Over the course of two weeks, I felt inspired, excited, and completely relaxed. Even though Alfonso continuously reminded me to focus on the technique and forget about the quality of art, I did create a body of work that I am very proud of. The techniques were fascinating and reminded me why I love etching. I intend on building an electro etching unit in my home studio, and as a community artist and teacher, I hope to instruct others in the technique. This residency reignited my passion for making art!
Cara Seccafien's electro-etchings

More information about Cara Seccafien.