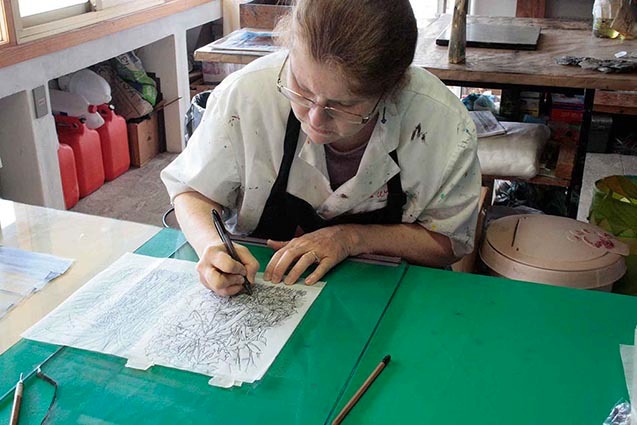 Karen Cornelius is a Canadian artist, an accomplished printmaker and art educator. She completed the electro etching residency from April 6 to 30, 2016.
Prior to her arrival at the residency Karen had used my Electro-etching Handbook to set up a rudimentary electro etching system at the Martha Street Studio in Winnipeg, Canada.  She had been experimenting with this low risk electro etching process, finding the precise and detailed explanations in my handbook easy to follow.
When I started writing how to etch using this technique my intention was that any interested printmaker would be able to do it. However, I never thought anyone would take electro-etching as far as Karen had done with the guide of my handbook. She had already been experimenting with great success. She had expanded her exploration to include the use of a single 1.5 volt battery as a portable source of electrical current and experimented with the semi dry process, exploiting the simultaneous corrosion of both the giver and receiver plates.

Karen has been exploring less toxic more environmentally responsible printmaking techniques for over 15 years and is passionate about electro etching. She was able to expand and deepen her knowledge of electro etching with the resources and instruction I shared during her stay.
During the residency comparative tests with different soft grounds were conducted, including working with a graphite ink ground with which she was unfamiliar. This technique sparked her imagination in light of its potential application as both a hard and soft ground and the possibility of creating unique washes and textures. Additional experimentation with a coffee lift on both a Baldwin intaglio ground and a graphite ground were conducted.  
I demonstrated a number of techniques Karen had not previously used including passive electro etching on zinc, exploiting the negative pole of the electro etching unit, and a galvanising process with relief lines and mezzotint using a variety of resists such as litho pencils and sharpie pens.  Extended experimentation was conducted galvanising a collagraphic plate.
During one of her morning walks, she had the misfortune of slipping and breaking her left wrist. Following a visit to the local hospital, doctors fixed and casted the arm, and Karen was able to successfully complete her residency.  Before this accident, she had enjoyed hiking with our local Saturday hiking group allowing her to become more familiar with the landscape of the island.
After Karen completed her residency, her husband joined her on the island for a holiday. They stayed at the comfortable La Casa de Vegueta bed and breakfast enjoying meeting guests from around the world. They visited local art galleries, museums, restaurants and café's in Las Palmas, and rented a car to explore the varied geography, micro climates, flora and fauna of the island.
Conducting this residency was a satisfying experience solidifying a professional partnership based on our joint dedication to electro-etching.
Pictures from the workshop



Karen Cornelius Speaks about her Residency

I have been investigating less toxic, more environmentally responsible, experimental printmaking techniques for over 15 years. 

I became aware of electro etching when I was asked to work with the Inuit printmakers in Ulukhahtok (formally Holman) in the High Arctic in 2011.

I discovered a large clear electro etching system in the backroom of the Ulukhahtok Arts Centre. Resident printmaker Louie Nigiyok worked with me to cleaned up the unit and after consulting the limited instruction booklet we etching basic lines before my contract was completed. This exposure to electro etching made me want to experiment more with this process, but I felt hesitant to work with electricity on my own and found the task of setting up my own system a bit daunting. Over the next several years I would revisit the idea, researching electro etching online.

When I discovered Alfonso Crujera's clearly written, informative book on electro etching, I ordered a copy.  Using the book as a guide I felt confident enough to set up a rudimentary electro etching system at Martha Street Studio in Winnipeg.   

I believe electro etching is the way of the future as a safe, environmentally responsible printmaking option and wanted to learn and work directly with Alfonso Crujera. In April 2016 I was able to come to the Canary Islands with the support of the Manitoba Arts Council. 

The studio location is inspirational with expansive windows overlooking the ocean.  Alfonso generously shared his knowledge, attention to detail and insider tricks of the trade with me. I expanded my knowledge, understanding and confidence in working with the electro etching process and even though I had an unfortunate accident, breaking my left wrist while hiking, I was able to accomplish a great deal thanks to Alfonso's assistance.

I wish to thank both Alfonso and his wife Amparo for their friendship, extra care and assistance they both provided during my residency.
Karen Cornelius's etching
More information about Karen Cornelius. www.karencornelius.com.

Article that Karen Cornelius published in the magazine Graphic Impressions (page 3) in Fall 2017. Electro-etching Rediscovered: An Environmentally Responsible Less Toxic Option For Intaglio Printmaking.