Julie Upmeyer, as she describes herself, is an artist and initiator based in Istanbul, Turkey.  Born in Detroit, USA she received a Bachelor of Fine Arts, with a Ceramics Emphasis, Cum Laude, from Grand Valley State University in Allendale, MI, USA.  She is a young artist, already with a long career and an even longer future. She has a long-time interest in the movement of artist through artist residencies and other exchange programs. In fact, she worked for many years as the website content editor and communications manager for Res Artis, the worldwide network or artist residencies. She herself has been a resident artist at several residencies in America, Europe, and Asia.  She co-directed Caravansarai, a production space and artist residency in Istanbul from 2007-2013.
Julie had been interested in our residency for some time, and over the course of the past year, we came to an agreement to do an exchange. She would come as an artist in residence to learn electro-etching, and in exchange she would help me redesign and recreate my website – this very website that you are reading. She also taught me how to edit and update the content of the entire site. Thank you very much, Julie!
She has been at the residency for four weeks in May, during which she had time to learn every process of electro-etching – see her prints. She also worked on the website and had time to enjoy the coast of San Felipe, swim in the tide-pools, sample the restaurants near the beach, and take walks in the near by 'barranco' (valley), planning her future projects. She has great vitality and is always in a good mood. We hope to see her again soon, hopefully in Istanbul for an electro-etching workshop.
This is the second time we have done an exchange with an artist – last year with Luvier Casali, and now with Julie Upmeyer. The experience has been fruitful for both sides, in both cases.
Pictures showing the progression of the galvanisation process until the mould is completely covered.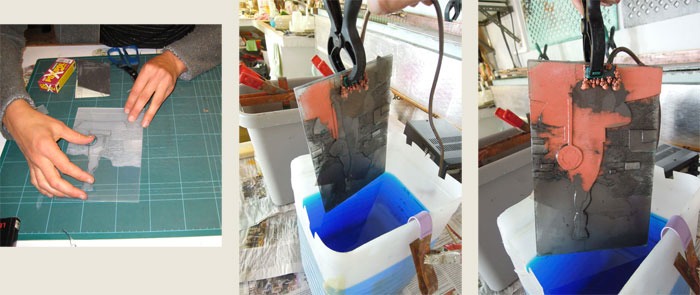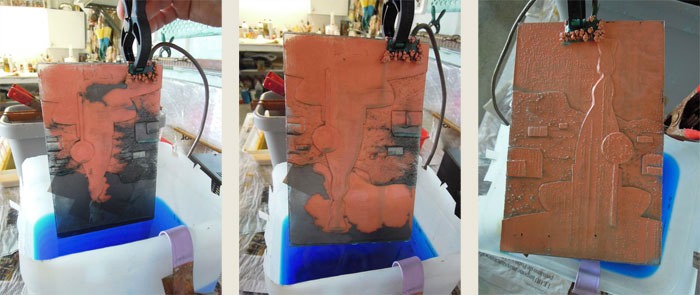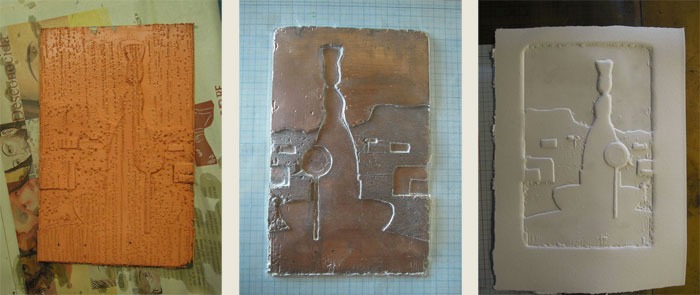 Cooper plate and proof printed without ink

Julie Upmeyer Speaks about his Residency
I am so grateful for my time as a guest in the Canary Islands. Alfonso's studio and Amparo's garden are magical and inspirational places.  Alfonso's love for art, for materials, his work, the studio, and electro-etching is evident in his work, the studio, and his teachings. I learned so much in such a short time, feeling confident enough now to set up a small electro-etching unit in my own studio. I am not an experienced printmaker, but with Alfonso's guidance I was able to incorporate the skills and ideas with which I was already working into the printmaking processes. I am very happy with the results, as well as the process. It was a pleasure to be living and working in such productive and pleasant environment, and a very worthwhile exchange.
Julie Upmeyer's etching