Stephanie Gaumond (USA) is an artist with a degree in Fine Arts at the University of Denver, USA, a Master of Letters (M.Litt) in Fine Art Practice,
Printmaking in Glasgow School of Art, UK. This young artist is a skilled etcher and is very interested in non-toxic printmaking processes. She has
stayed for one week at the residence of electro-etching workshop. His purpose was to receive instruction in this technic for two weeks but a relative
surprise that claimed his immediate presence, made her trayning was interrupted. However, her etching experience and her working concentration
have provided her a useful introduction to the electro-etching processes, how it has been demonstrated in the seven plates she made in a week.
Stephanie has known the history of electrolytic etching, the theoretical foundations of electrolysis, the basic principles of electrolytic etching and its
application in the graphic arts, and she was able to see the benefits of using non-toxic printmaking processes.
We wish Stephanie is coming back soon to follow her instruction on electro-etching.


Pictures from the workshop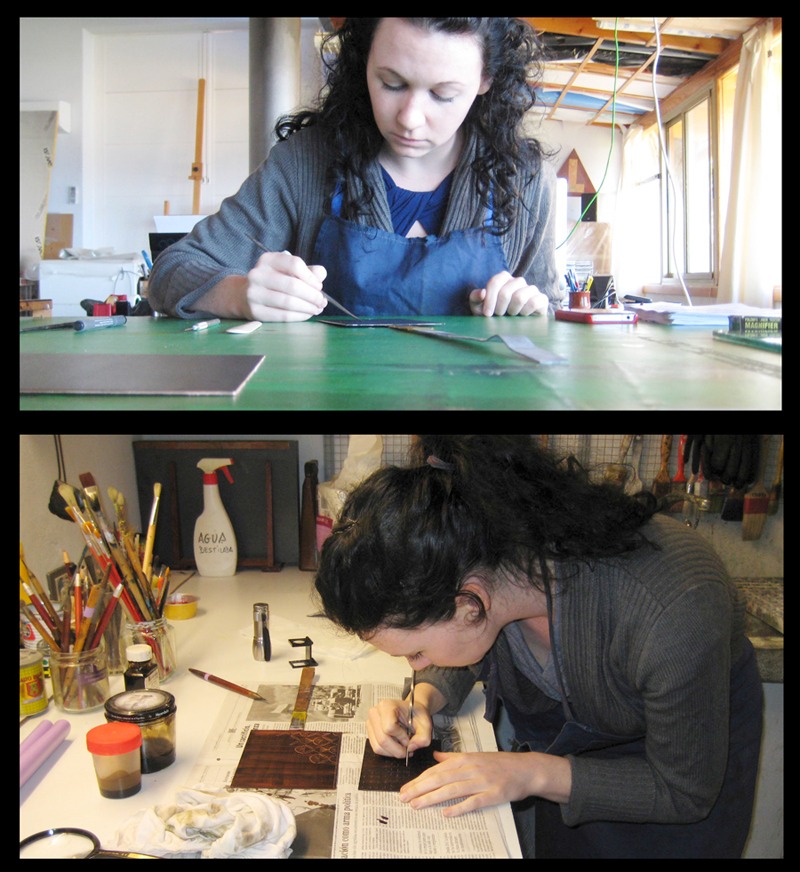 Stephanie Gaumond Speaks about her Residency
This electro etching residency is such a great opportunity to learn this process. Alfonso provides wonderful instruction in addition to his wonderful studio to work out of. All of this I topped off by the beautiful scenery on the island. I very much enjoyed it. I had a wonderful time, even though it was cut short.

Thank you again! 
Stephanie Gaumond's etchings
More information about Stephanie Gaumond: www.stephaniegaumond.com; Blog : www.stephaniegaumond.wordpress.com