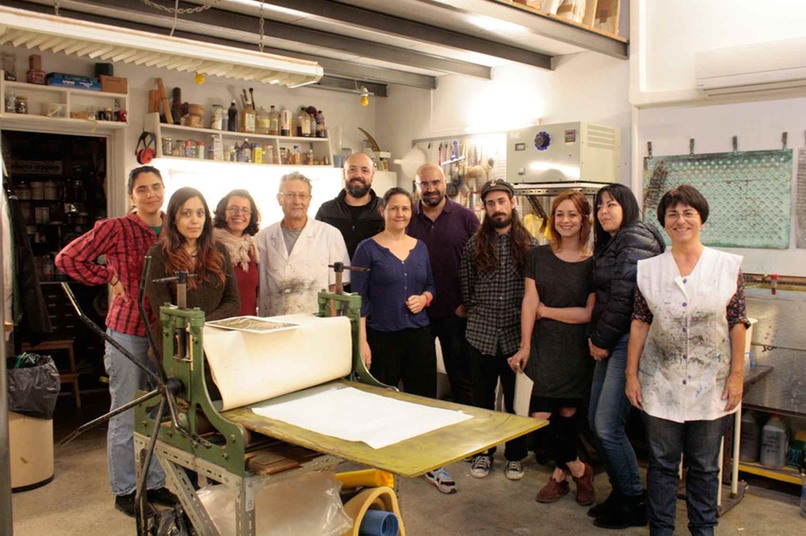 Step by step Electro-etching course.
San Felipe workshop.
From March 29th to April 1st 2016.
This course done in collaboration with the Centro de Arte La Regenta and Canarias Cultura en Red, made it possible for a group of young artists fully interested in learning the basics of electrolytic etching to attend. Several of them had some experience with traditional etching, others not. However, their creativity and interest was enough to practise electro-etching processes with ease. I would like to thank them for sharing their experiences with me.
Programe
• History of electro-etching
• Basis of electrolysis and electro-etching
• Principles of electrolysis and electro-etching
• How set up an electro-etching unit
- The electro-etching unit
- Preparing the electrolyte
- Voltage, amperage and bite times
• Electro-etching step by step
-  Preparing the plate
- Etching lines with hard ground
- Electrotint. Open bite tones without rosin or asphaltum powders
- Reserved areas with graphite hard and soft ground
• Precautions, advantages and disadvantages
- Safety ruls
Pictures from the workshop and etchings

Some opinions from the artists
"My time in the workshop went flying by. It was a discovery of techniques and possibilities that have been working around in my head ever since and that I hope to materialize soon. Thank you and Lluvia very much for this week." Palma Christian.
"The Electro-etching workshop has been a very interesting and instructive experience. Alfonso Crujera is a prominent artist-researcher who is generous enough to pass on his findings, know-how and extensive experience, something that is unfortunately rare and much appreciated. All this seasoned with his dynamism and good humor. It was great to live this unique experience, thank you very much." Isabel Llarena.
"The workshop was great, a gift. I have recommended it." Nadia Brito.
"Alfonso Crujera, tireless researcher on electro-etching and its application to non-toxic etching, has transmitted to us in this workshop the interest in understanding more and better the fundamentals and the electrolytic processes for etching. With this technique the matrices of metal are bitten or etched with electricity. I am seized by curiosity and desire to practice and deepen the electro-etching and am very happy with my new power supply to personally experience the expressive possibilities offered by electrolysis." Mariví Gallardo.