Monographic Course of Electro-etching, step by step. elmonodelatinta workshop, Madrid. July 2011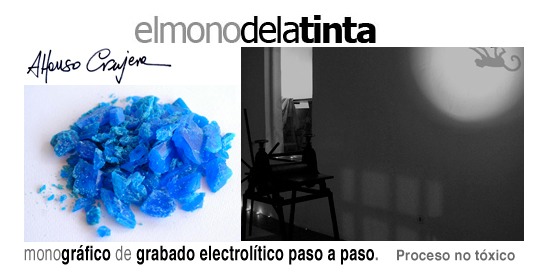 The workshop of lithography and etching, elmonodelatinta was founded and is directed by Miriam Cantera and María Gambín in 2003, artists with great training and experience in the graphic arts. 
The workshop has developed a programme of courses primarily focused on applying techniques and processes safe for artists and etchers. Following this principle, they proposed Alfonso Crujera to set up an electrolytic etching unit to offer courses of this technique in the workshop.
This course has been the first workshop of electro-etching taught in Madrid, where etchers from Madrid, Valencia, Tenerife, Switzerland and Holland attented.
See the programe as pdf (Spanish)
In addition to the programme, graphic experiences were performed applying galvanising processes by electrolysis. An electroplated copper plate offers a fine grained surface hard enough to practice some traditional printmaking techniques. Ana M ª Rebollo worked burnishing the rough plate as if it was a traditional mezzotint. Miriam Cantera applied lithographic process on a galvanising copper plate. Both proofs are included in the Electro-etching handbook.
Pictures from the workshop and etchings

More information about the workshop elmonodelatinta