Introductory workshop on electro-etching. Workshops made at the Congress 'notoxico' International Printmaking Meeting 09.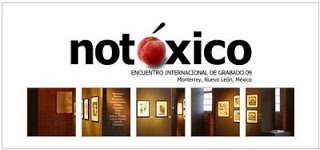 From 11 to 20 March 2009, the first worldwide nontoxic printmaking congress was held in the city of Monterrey, Nuevo León, Mexico. The International Meeting Etching 09 'notóxico' (notóxico - Encuentro Internacional de Grabado 09) aims to show, confront and discuss alternative procedures safer for the printmakers and the environment.
An idea and realization of master Sergio Osio, a great team, and funded by the Council for Culture and Arts (Conarte) of the state of Nuevo León, Mexico. The venue is a large building, an old metal industry restored and converted in a great center of art, 'El Parque Fundidora', with large spaces to host this first global gathering. It opened with a major show of graphic works, made with safer processes, in which artists from five continents showed their artworks. Followed by four days of conferences and round tables with the participation of artists, teachers and representatives of workshops and art centers. The second week, five printmaking workshops were held in order to implement and disseminate alternative techniques.
El Parque Fundidora Center

The Members of the Congress                                             Sergio de Osio and the teachers


The workshops
The great halls of La Fundidora allowed imparting the five scheduled workshops at the same time. This experience, unique in its kind, facilitated relations and exchange between teachers and printmakers artists attendees.
The teachers: Keith and Berenice Howard (USA) Intaglio Type (on photopolymers film); Paco Mora (Spain) Etching with acrylic resists and sulphate saline etching;  Jim Lorena and Antonio Damián (Spain) Techniques for creating artist books; Alfonso Crujera (Spain) Electro-etching; Graciela Buratti (Argentina) Etching with photopolymers film.
Artists, printmakers and teachers fom Mexico and Latin America attended the workshops. 
The course of electro-etching that Alfonso Crujera taught was of 40 hours. Two electro-etching units were installed in the printmaking workshop 'El Topo' of Zacatecas, Mexico, under the direction of Alfonso Crujera.
Theory : History of electro-etching, basis of electrolysis and its application to etching and electroplating.
Practice: - Setting up the electro-etching unit, connection to the power supply, electrodes and cathode grid, preparation of the electrolyte.
                  - Etching on copper plates using different varnishes and electrotint of open bite.
                  - Application of graphite ink as a varnish to draw lines and electrotint.
                  - 'Passive' electro-etching on zinc plates, this process does not use electricity and can be practiced without a power supply.
Pictures from the workshop and etchings

• Enrique González, magazine editor 'Grabado y Edición' # 19, reports about the Meeting 'notóxico'. See the article as pdf  (Spanish)
• Printmaking workshop El Topo.