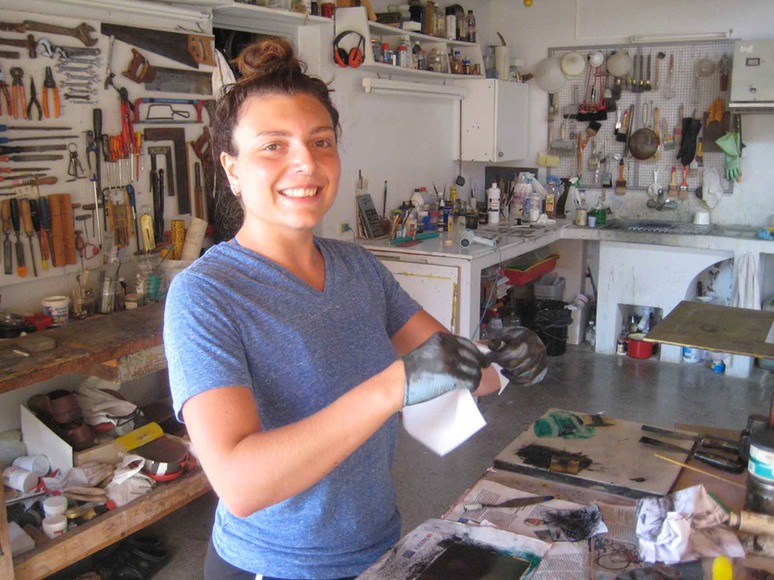 Laura Bollati, Italy (1991),  holds an MA in Graphic Arts from the Albertina Art Academy, Turin,  Italy. March 2016. She started to make some experiments in her home town, in the basement, following the textbooks of Cedric Green and Alfonso Crujera. Etching with electrolysis has been the topic of her Master's  dissertation. She is working at Atelje Larsen in Helsingborg, Sweden. Laura is one of the two young artists who have attended the workshop this  year as a result of the grant we offer for young artists for training on electro-etching.
Laura has  immense value of having started by herself in the techniques of etching by electrolysis. The experience acquired after her personal research in these processes, coupled with her skill acquired after a year of work at the Atlje Larsen, printing and assisting the artists who are going to etch at this workshop, have given her a great foundation which allows her to assimilate significantly the various different techniques of electro-etching.

I am amazed to see how Laura's youth is an advantage to her creativity, as well as the ease she  shows in solving the drawbacks that always arise when working with technically experimental processes. During these two weeks she has practised with electro-etching of lines on hard ground, open bite microdot to obtain areas of shade, ething with graphite ink resist, the lift ground, the passive electro-etching process, galvanised relief lines, galvanised tonal effects and galvanography. She says that she had never made so many plates in such a short time, a tremendous satisfaction for me as a teacher. Her even had time to visit exhibitions, go to the beach in the afternoons, and to teach us some wonderful dishes of Italian cuisine that we have enjoyed immensely. Thanks, Laura!
Pictures from the workshop

Laura Bollati speaks about her Residency

Conoscevo già il lavoro di Alfonso Crujera, poiché avevo studiato il suo libro per la mia tesi magistrale sull'incisione elettrolitica.

Pur sapendo come funzionano il processo elettrolitico e le varie tecniche, credo di aver imparato di più durante questa residenza che in mesi di esperimenti a casa mia in cantina. 

La pazienza e la professionalità di Alfonso hanno fatto sì che in sole due settimane io riuscissi a sperimentare molte tecniche differenti.

Lo spazio è tranquillo e magnificamente immerso in una natura incredibile.

Alfonso e la sua splendida moglie Amparo si sono dimostrati sempre gentili e disponibili per qualsiasi cosa, inoltre mi hanno invitata a diverse volte ad uscire insieme a loro, con i loro figli Lluvia ed Helios ed i loro amici.

Essendo mediterranea ho amato molto l'ambiente famigliare ed il calore della gente; abbiamo inoltre condiviso la reciproca passione per la cucina.

Consiglio vivamente questo workshop agli artisti i quali lavorano con la grafica e ringrazio Alfonso e la sua famiglia per questa meravigliosa esperienza.

                                                         ------------------------------------ English translation --------------------------------------

I already came across Alfonso Crujera's work because I studied his book for my master degree thesis on electrolytic etching.

Even if I knew the electrolysis process and most of the techniques, I think I have learnt more during this residence than in months of experimenting alone in my basement.

Alfonso's patience and professionalism led me to practice a huge variety of techniques in just two weeks. The space is calm and magnificently surrounded by an incredible nature.

Alfonso and his beautiful wife Amparo had been always kind and they invited me to hang out together with their sons Lluvia and Helios and their friends.

Being Mediterranean, I loved this family environment and people´'s warmth; we also could share our great passion for cooking.

I highly recommend this workshop to all the artists who work with printmaking and again thanks to Alfonso and his family for this fantastic experience.
Laura Bollati's electro-etchings