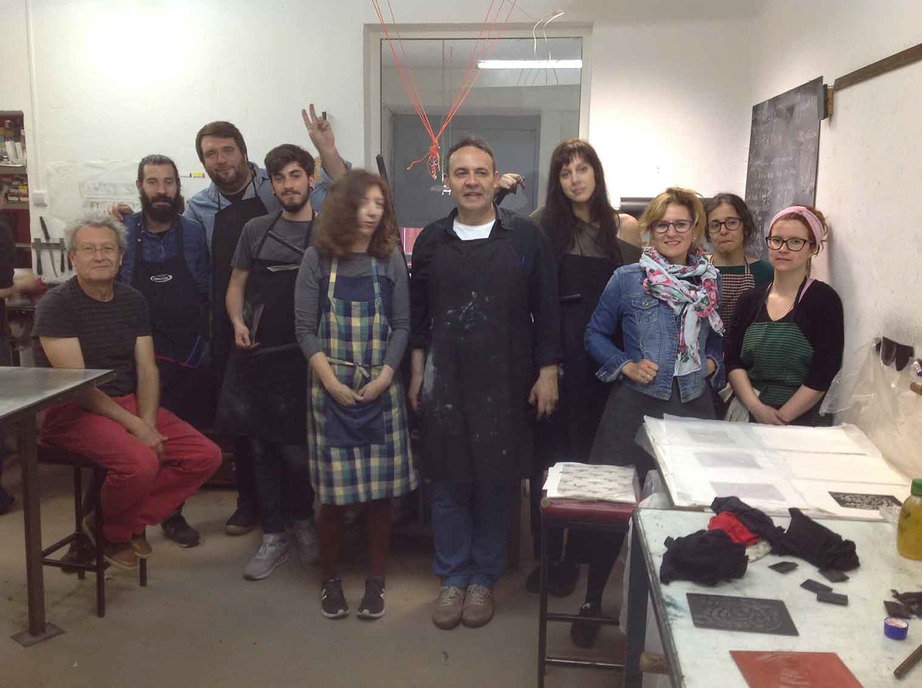 Electro-etching course with graphite ink resist.
Workshop elmonodelatinta. Madrid.
From 28th to 29th May 2016.
This was the fourth course taught in the workshop elmonodelatinta. Fortunately this technique continues to arouse the interest of printmakers looking for low risk, alternative processes of etching.
It was a pleasure to share my experiences on electro-etching with the artists who attended. A marathon of sixteen hours in two days, it would have been exhausting were it not for the efficient help and attention, always seasoned with good humor, of María and Miriam, the directors.
As planned, the artists electro-etched using the graphite ink resist process, however I thought it appropriate they also practice with lines on hard ground and tones with the open bite electro tint that this technique provides, without the use of rosin or asphaltum.
In addition we used a tank for "passive" electro-etching that does not need electricity and provides a deep bite on zinc plates. This process is ideal for emboss printing (without ink) or printing with Hayter ́s system, using inks of different viscosities and rolls of different hardness.
I thank all the artists for sacrificing a weekend and shutting themselves up in a workshop to do this course, especially those who came from afar, Bea, Jorge and Andrés from Cáceres, and María from Burgos.
See the Spanish program in pdf.
Pictures from the workshop and etchings

Some opinions from the artists.
"Thank you very much for introducing us to your research. Biting without acid and traditional solvents is a great novelty and a revolution for the world of etching and the environment. We did what we could in two days with what you taught us; more time is needed and more trials to get a hold of this technique, and we will continue practicing on our own". Andrés Talavero.
"The course was very complete. Within two days, we had enough time to see everything and practise with different plates and techniques. Alfonso did not only explain everything but also he paid attention and helped with a smile. It was very nice and we learnt a lot. I absolutely recommend it". Esther Villardón.